A high-quality legging compared favorably to Lululemon because they're way cheaper, last a while, unequivocally pass the squat test, and move with you like nothing else. Many have called them "perfect."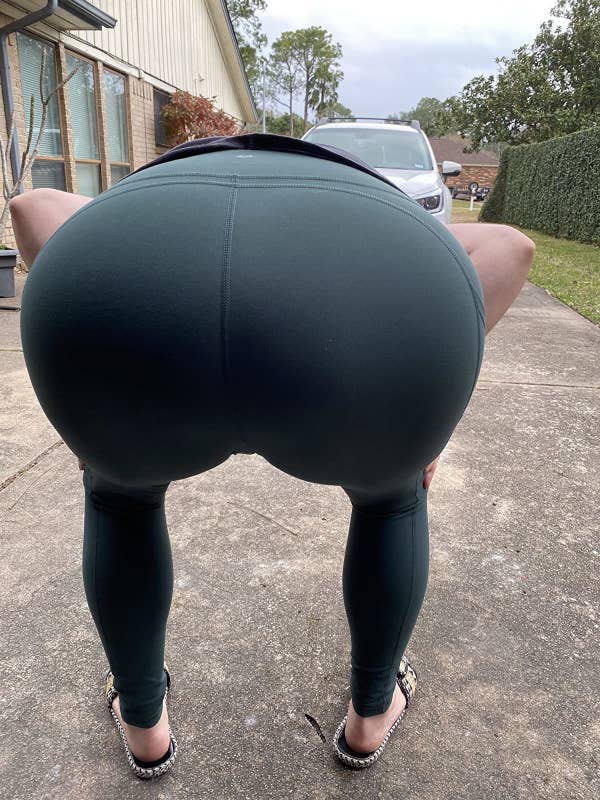 Promising review: "I've been searching for a LONG time on Amazon for the perfect leggings and these are it. They're high-quality like the expensive Lululemon or P'tula without spending a lot of money. After returning many leggings from other sellers, I came across these. I work out a lot and have tried many leggings and these by far are the most comfortable to work out in! They def pass the squat test, are not see-through at ALL and have convenient pockets that I didn't think I needed but love. Truly unbeatable for the price and quality!"
A thick stuffed seal that's a highly necessary addition to the plushy collection of anyone with an appreciation of choristers.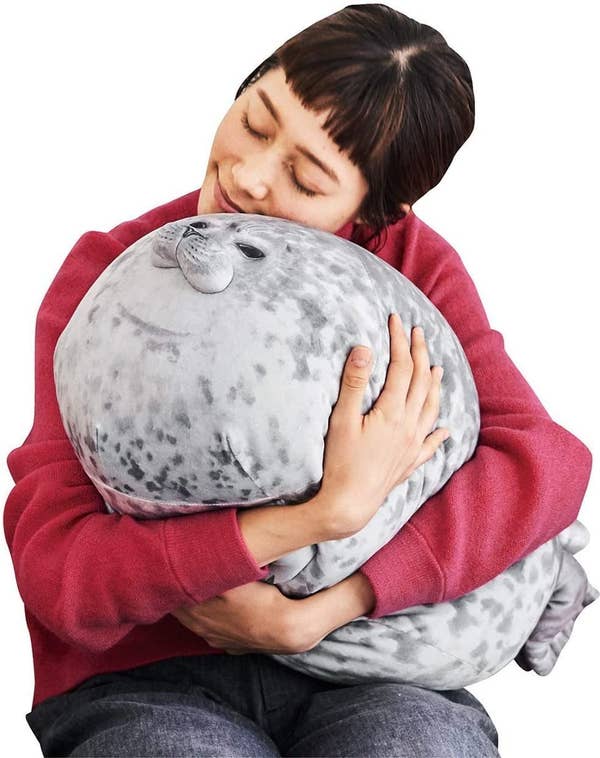 I bought one for my partner — choker enthusiast extraordinaire — and they immediately loved it.
Promising review: "I showed my 10-year-old daughter a picture of the chubby blob seal and from that second on she had to have one. Seriously, it was all she wanted for her birthday. iPad? Nope...chubby blob seal. Xbox? Nope...chubby blob seal! So, that is what I got her. She absolutely loves that thing and takes it to bed every night."
A Yeti cooler with wheels so you can finally know what all the fuss is about without throwing your back out moving it around. This ruggedly handsome, heavy-duty miracle is designed to keep ice cold for eight days, holds a heck of a lot, and actually stays put in your trunk or truck bed. Be still my butch heart!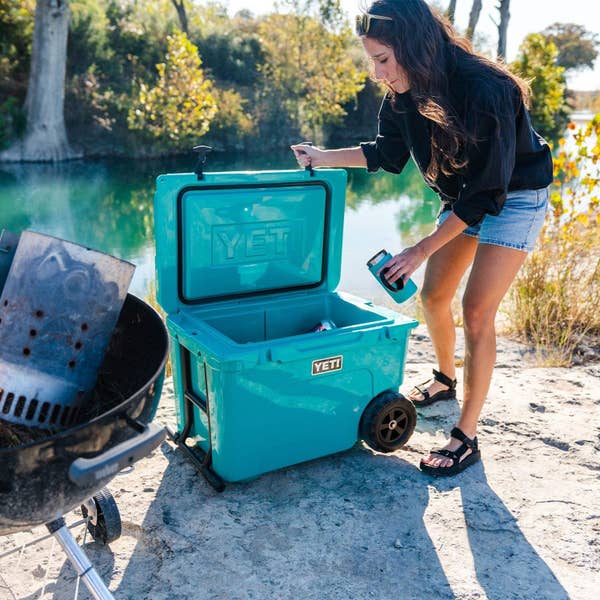 Yeah, it's a splurge. But a lot of reviewers still say it's totally worth it and it is also, IMHO, a gorgeous piece of equipment. Just look at it!
Promising review: "This thing is a workhorse! Of course, I was hesitant to purchase because of the price tag but after years of buying what I thought to be decent coolers and having to replace them within a year or two, I thought, why not?! Well, I've been using the cooler pretty much nonstop since Memorial Day weekend and it has exceeded my expectations. I bought two blocks of ice for the holiday weekend and the contents of the Yeti stayed cold past five days even though I left the cooler on my back porch which gets sun for most of the day. Two weeks later I found a few cans of beer that got left behind and lo and behold the drinks were cold! Definitely not ice cold but drinkable for sure. If you're on the fence, go ahead and buy this cooler. It will not disappoint!"
A portable USB speaker that's smaller than a roll of toilet paper. It's got a big sound, it's impact-resistant, waterproof, and also floats (wow!). Reviewers say it's a solid product and a heck of a bargain. I have one myself — it's awesome, and it comes with me everywhere.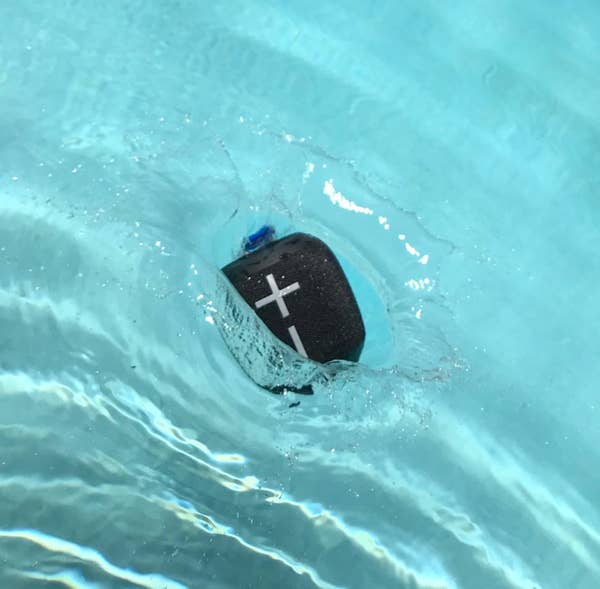 Hiking. Beach days. Bath time. Drive-in movies. Picnics. I even use it for the sound when I'm projecting TV (since I ditched my actual TV years ago).
It's made by Logitech, by the way.
Promising review: "I bought this after someone I met on a boat trip had the original Wonderboom. The Wonderboom 2 has all the great features as the original but with improvements. It delivers good quality sound in a small package. I take it with me on trips, use it while doing yard work, and any other time where I need portable music. One feature that sold me on it is that it floats. You can take it tubing or throw it to someone in the water and not worry about losing it. Also, it pairs with devices easily and has good battery life. I did quite a bit of research before I purchased and it is arguably one of the best speakers in terms of value."
A gallon bottle of water with times of day and affirmations on it to encourage you to finish it, because like literally everybody on Earth, you're probably not drinking enough water right now.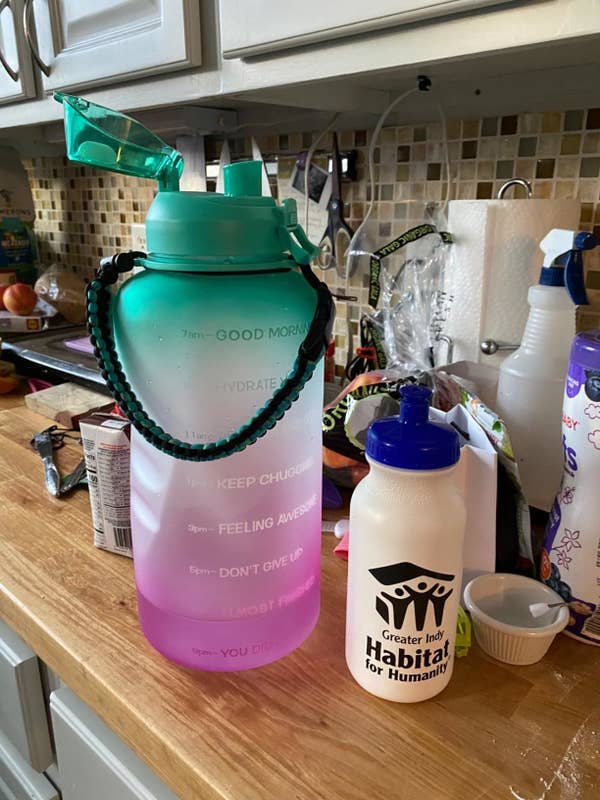 Yeah, I'll admit the writing on it is a little cheesy, but you know what's even more cringe? Being chronically dehydrated!
Promising review: "I, like most people, struggle with drinking enough water. And, as a medical assistant wearing a mask all day, it's even harder. This really keeps you accountable. Not only does it give you motivation, but it also gives you a time limit in which to do it. The bottle itself is beautiful. It doesn't spill or leak has a straw that bounces up so it's extremely easy to drink from." —
A hair towel reviewer with curly hair loves it because it dries their hair in a reasonable amount of time and has a button to keep it nice and tight, so they can go about their business without it falling off all the time.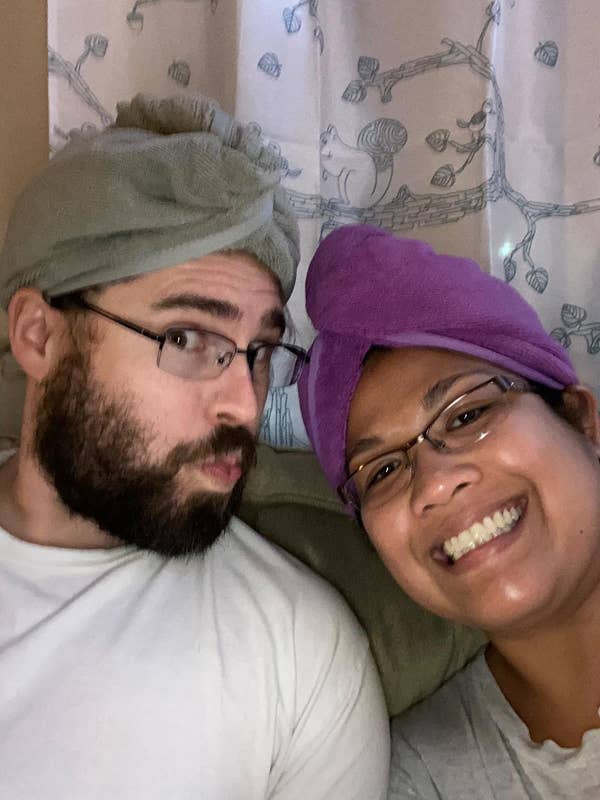 Promising review: "I purchased these after reading that microfiber is better for curly hair (it prevents frizz). I love them. The design is simple but genius. I love the button at the base that secures the turban. No more floppy towel turban or trying to balance a precariously wrapped towel on my head while I do my makeup. They even stay secure on my 6-year-old daughter's head. Having two is perfect. I can share with my curly-haired daughter, or just have a spare when one goes in the laundry. I will likely purchase more to have on hand and for travel."
A set of five resistance bands of different colors and tensile strengths that reviewers love to use for at-home strengthening and PT. They're easy to grip, nice and long, and they don't snap.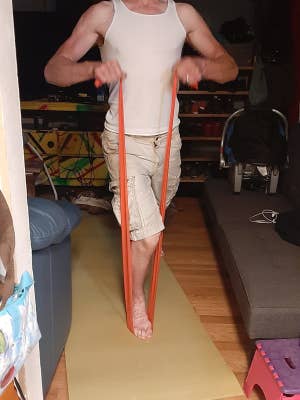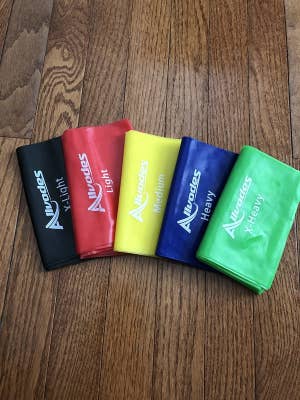 Promising review: "These were a great find and buy. Really well-made elastic that shows no tearing or damage, and provides very reliable resistance. It is also quite long to allow for different lengths and controlled resistance. The width is also a nice touch, as it makes them tougher; I always felt scared looking at the thinner bands thinking they would snap! They did not. Overall highly recommend this for a simple home workout regimen, especially when you are just stuck at home."
A Moroccanoil hair oil folks swear by for reducing frizz and keeping your hair nourished.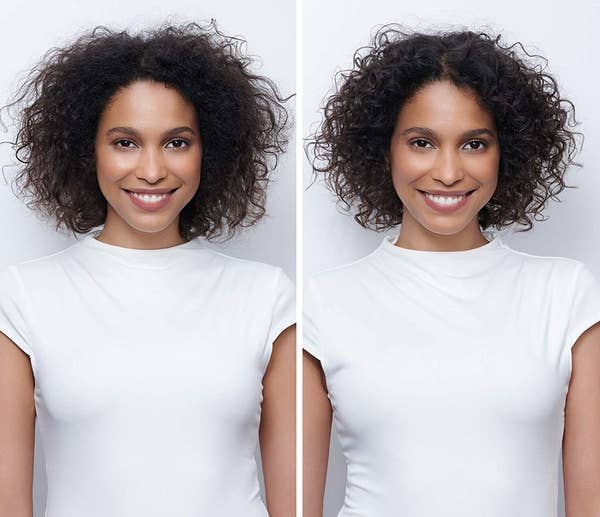 Promising review: "Love, love, love! The smell is gorgeous and lasts until your next hair wash. The treatment definitely calms down any fine or flyaway hair. It makes it easier to style, and the best part is that the oil nourishes and hydrates the hair, which is very important. I have been using this oil for eight years now. One bottle lasts me about six months. I use the applicator when I am at home, and just take the bottle for when I am traveling. I will always use this product and highly recommend it."
A Bentonite clay mask that's powerfully effective at clearing and healing your skin.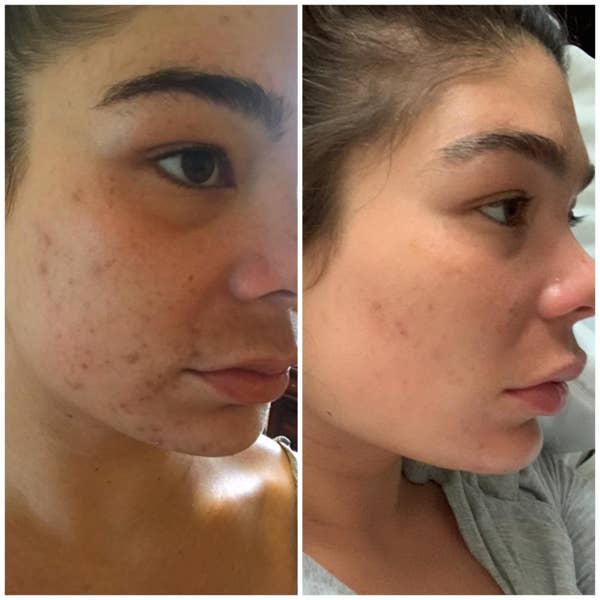 Yep, I've used it. I tend to get clogged pores on my nose. Cleared them right up!
Promising review: "I came across this mask online and saw reviews and thought there is no way this mask helps with acne marks because I have yet to find one that does. Three months later the results just show you how fast and amazing this product is. I will never use another face mask."
A polish from OPI's Mexico City collection, which features some rad bold and pastel shades that are totally on-point for spring 2021. OPI is the gold standard in a nail lacquer for a reason: it spreads smooth, won't chip for a while, and the color quality is A+.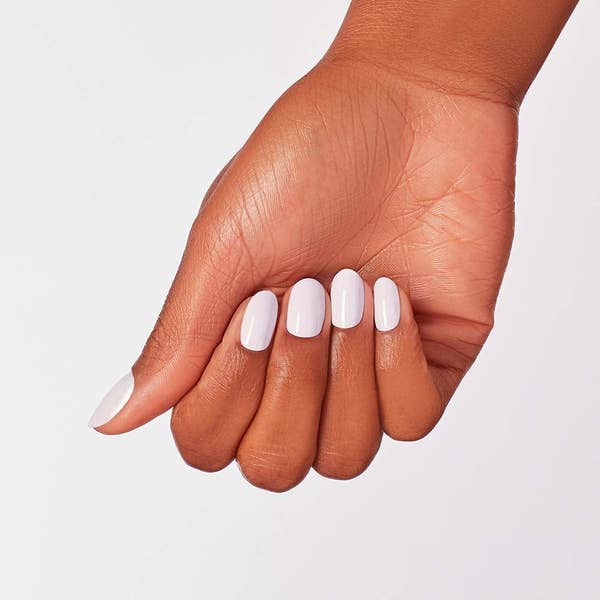 Some people think it's streaky but I, queen of self-manicures, must remind you that any decent lacquer is gonna need multiple coats. If it's one-and-done, the product is *way* too thick to do the job neatly and stick around after.
Promising review: "This OPI color collection is rich and elegant. When I use these colors on my finger- or toenails, more people compliment my nails than when I use any other color. The polish does not streak, is not gloppy, and is thick enough so that two coats easily cover the nail."
A fabric shaver that'll erase months of pills and dog hair and other linty grossness from your most precious knit goods, so you can leave the house without looking like you just got in a fight with a washing machine and lost.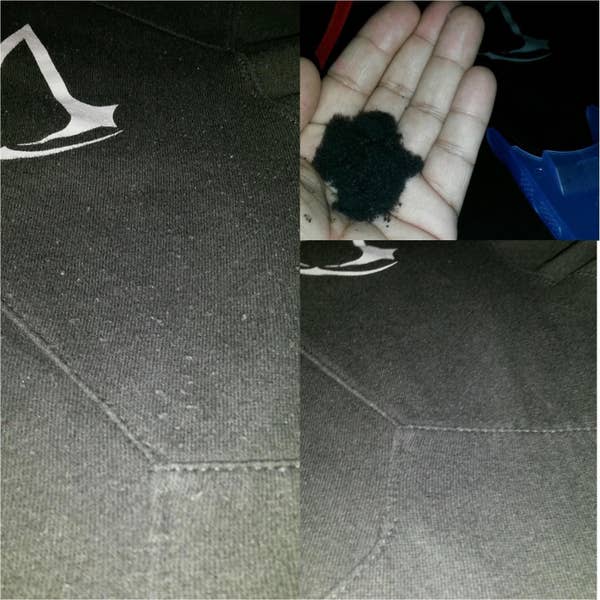 Promising review: "So I didn't think it through when I threw some dark shirts and sweaters in the wash with a couple of light towels. They came out with all those fuzzies. I ordered one of these based on the price and customer reviews and I can see why this was rated so high. Takes two AA batteries and is very comfortable to hold. Since it's so portable, I just sat on the couch to watch TV and shaved two shirts and a pair of cottony exercise pants while watching tv. I probably would have never worn these items (at least not outside the house!) again if it wasn't for this great little gadget."
A fan-fave Opalex hair-repairing leave-in cream people labeled "miraculous" for smoothing their hair out and making it lustrously shiny. It's so good you're gonna wanna throw everything else you've tried that didn't work in the garbage, where it belongs.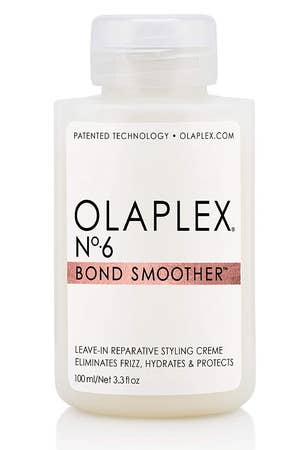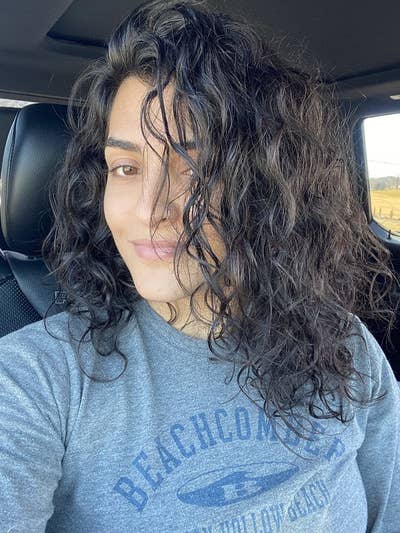 It works for all hair types!
Promising review: "I bleached my hair at home and almost killed it to the point I couldn't comb it cause it would stretch like gum; it was super dry and damaged. I used all types of mask and home remedies but when my hair was dry it looked super brittle and crunchy and frizzy until I tried this product and OH MY GOD. My hair is now super soft, dries real quick when blow-drying, and looks and feels healthy. Nothing helped with fizziness before in my life! I'm so happy I found this product, 'cause now I can ditch all other BS products I owned before this."