Practical Products That Are Determined To Help Solve A Few Of Your Small Problems
An ice tray that fully seals so you can turn that thing sideways and shove it in between your various mysterious bags of frozen somethings. No need to throw away that container of 3-year-old frozen beans to make room just yet.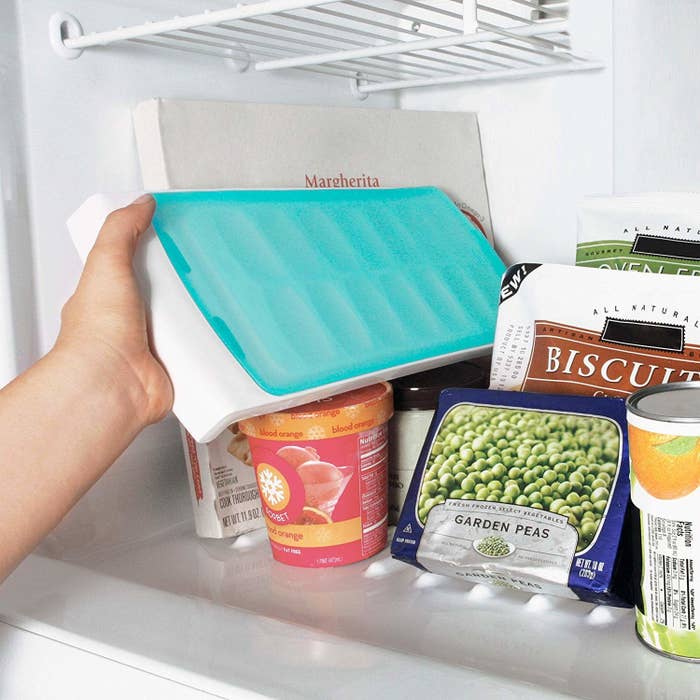 Promising review: "I absolutely LOVE ice cubes in my drinks, and it's so annoying to have ice cube problems. I really researched ice cube trays and read a lot of reviews until I found these trays. It's so nice not to have to worry about spilling water just trying to get them in there. Also, they come out of the tray so easily! No more fighting to get the cubes out. This just kind of pop out when you press down on one side."
Get it from Amazon for $9.99.
A pack of makeup shields to help you get crisp and perfect eyeshadow every dang time.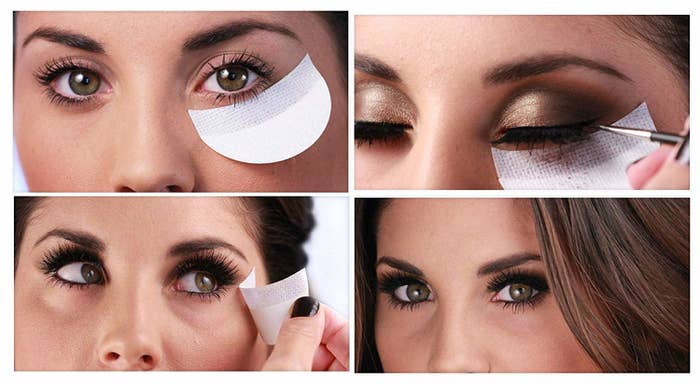 The best part is they won't take off any of your foundations when you remove them!
Promising review: "These things are great as shadow shields, but I also use them when I do my eyeliner and want to do a wing. When you take it off, it leaves no residue and the results are amazing."
Get a 30-pack from Amazon for $7.29.
A bracelet holder that'll work as your third hand so you can secure your bracelet all by yourself.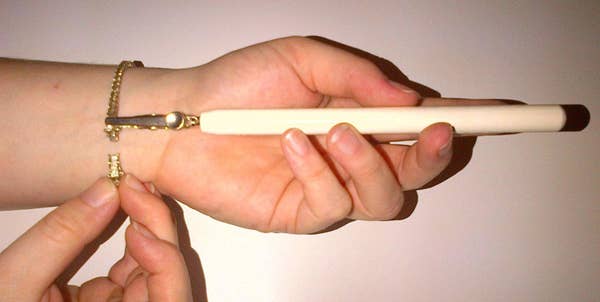 Promising review: "Wonderful helper! I don't know how I fastened a bracelet before ordering this. Each time I use it, it seems to be easier to use."
Get it from Amazon for $6.99+ (available in four colors).
A tube of chore sticks to trick your kids into thinking they're playing a game. Take a note from Tom Sawyer: Kids can get suckered into doing anything.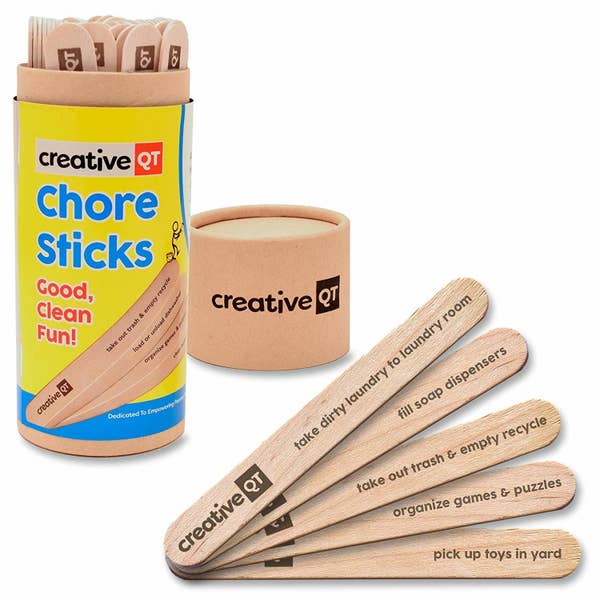 There are 50 sticks in total with 42 pre-written chores like take out of the trash and take dirty laundry to the laundry room.
Promising review: "Great Idea; kids love this. They come with some very good chores already, plus some I wouldn't have thought of. The few that didn't apply to us we just scratched out and wrote in our own. We ran a colored marker on one end, so when the chore is done it is flipped over, and kids only draw a non-colored one. That way we get through them all before re-doing any."
Get it from Amazon for $14.95.
A metal bar of "soap" will help you get rid of any unwanted food smells so you can go from chopping up garlic to shaking hands with sensitive-nosed people in no time.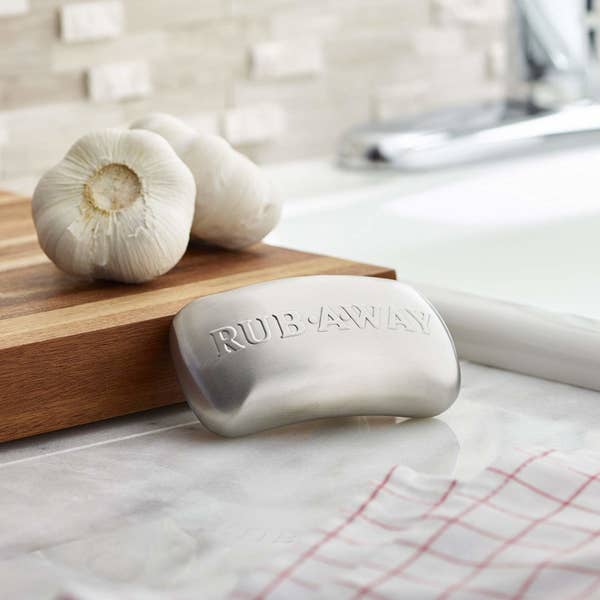 Promising review: "This little bar of 'soap' does exactly what it is intended to do. Do you have a sponge or rag that has that.....odor? Simply wash your hands under the sink with this little guy and suddenly, your hands smell like hands again. I've used it after handling several smelly items that have a tendency to make an odor stick with you. It's worked consistently every time."
Get it from Amazon for $6.87.
A shoe stretcher so you can avoid the horrible breaking-in period and go straight to enjoying your new loafers, no bandages needed.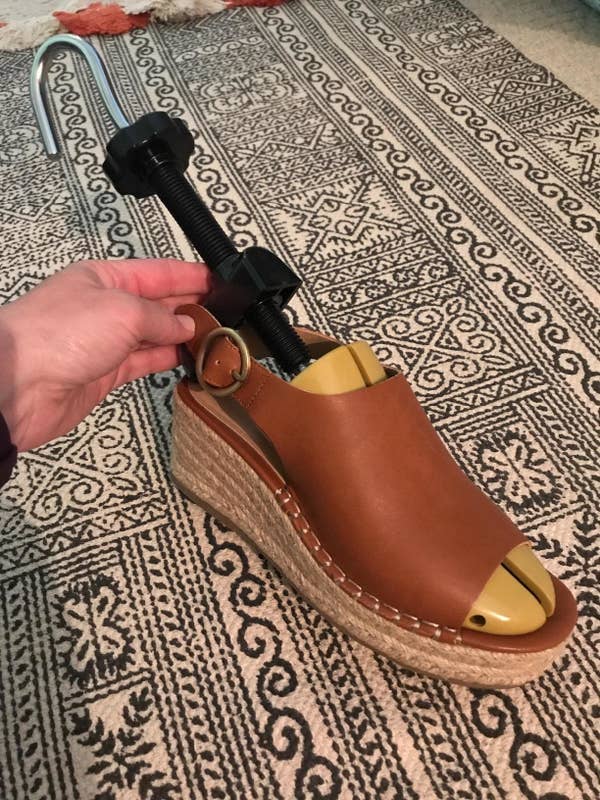 Promising review: "I'm an adult with a tiny foot. Shoes sized 3-5 will fit in length generally but are often too narrow. This device has made comfort possible without distorting the shape of my shoes. This also makes it possible to get to the broken-in stage quicker."
Get a pack of two from Amazon for $17.97.
A pack of sheet suspenders for the restless sleeper who always ends up in a tangled ball by morning. Keep those suckers in place!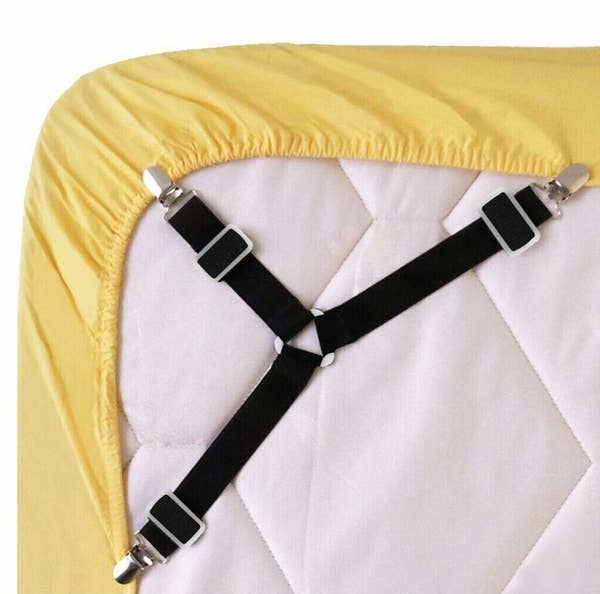 Promising review: "My husband turns a lot in his sleep and has always woken up with the fitted sheet halfway off his side of the bed. We bought these and we have NEVER once had to adjust the sheet in the morning! These are amazing! They're the kind of thing you'll never know how you lived without before."
Get a pack of four from Amazon for $9.99.
A migraine essential oil stick you can roll onto your skin whenever you need a little relief from a massive headache.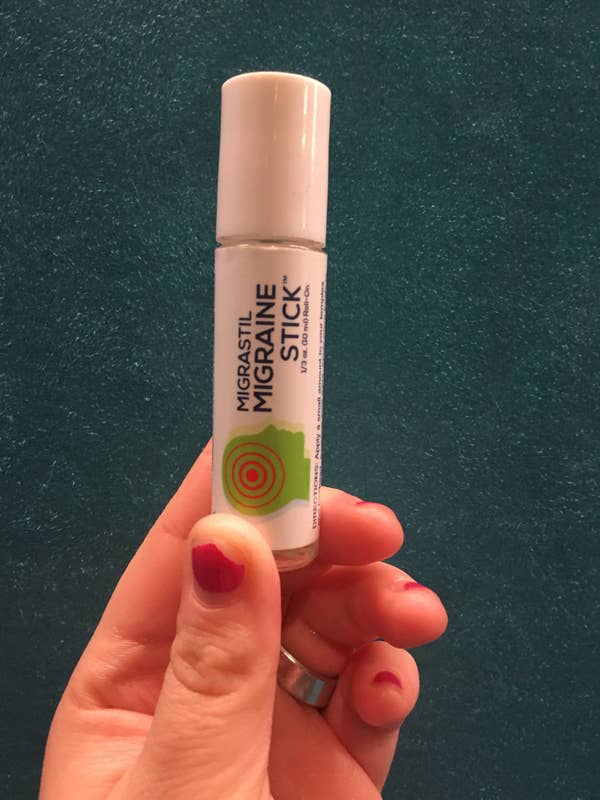 Promising review: "After reading an article on BuzzFeed that touted this product, I bought one for my boyfriend who suffers from awful, frequent headaches. It WORKS. Not only does he swear by it, but he has also purchased them for his Mom and several friends. FANTASTIC."
Get it from Amazon for $10.99.
A grout pen that takes one looks at your dirty tiled floors and walls and goes "I can handle that." Just use this bad boy to paint right over all the dirt and grime.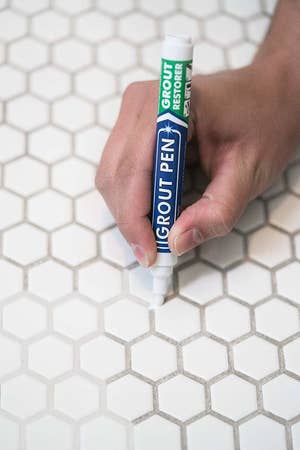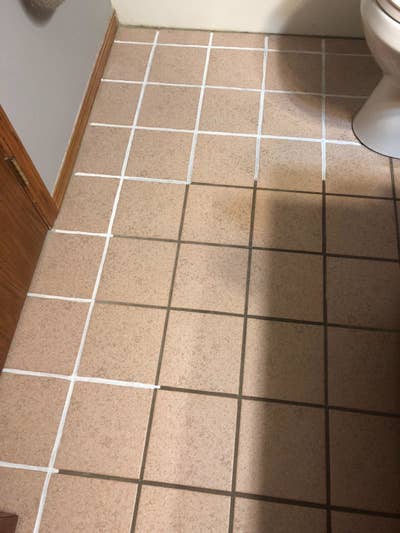 Promising review: "This stuff is amazing! After over 10 years of the grout not being cleaned and a botched repair job, the bathroom floor in this house looked horrendous. Two pens covered the entire bathroom floor, with plenty leftover in the second pen, even with applying two to three layers (which you will definitely need as the paint is a bit thin and also absorbs into the grout). It's super easy to apply and works exactly like a regular paint marker. Be sure to press the pen tip on a separate (thick) cloth to activate it before actually using it on the grout so you don't end up with a huge mess on the tile when the paint floods out at first. If you see the first side of the tip is getting frayed, just pull it out and turn it around to the other side."
Get it from Amazon for $8.99+ (available in three colors and two sizes).
An eco-friendly hard water stain remover that'll banish the dreaded orange glow. You deserve to get clean in something that looks clean.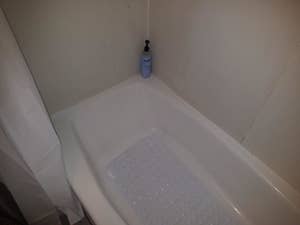 It also works on a wide variety of surfaces like granite, steel, fiberglass, marble, chrome, stone, metal, porcelain, brass, aluminum, stainless steel, and hard vinyl.
Promising review: "Amazing product! This is the absolute first time I have written a review for Amazon and I shop A LOT! I have been looking for something to get the hard water spots off my shower door and this did the trick! I've used it on all my bathroom fixtures and they are sparkling. It makes me want to keep cleaning; it works that well. It's a plus that there are no fumes and it's safe to use without gloves! The product actually smells really good, like toothpaste. I've already told my family about it! Will definite buy again."
Get it from Amazon for $22.99+ (available in larger quantities).
A pack of anti-slip glasses sleeves, because pushing your glasses back up your nose stops being cute after the millionth time you have to do it.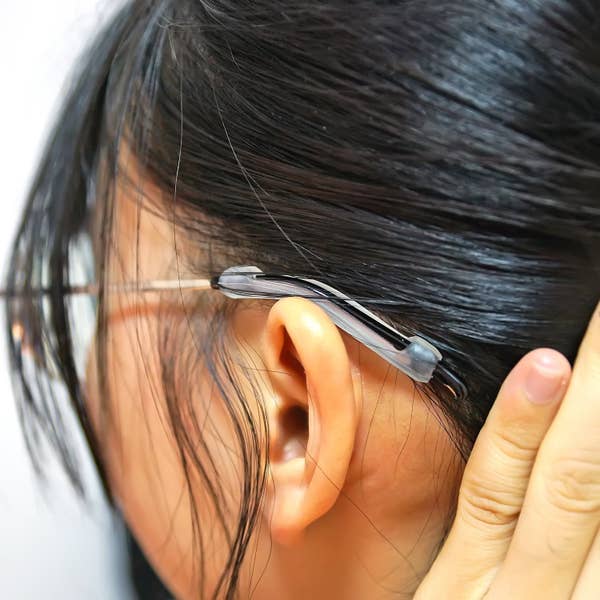 Promising review: "Both my husband with metal frames and my mother with plastic frames love these! My husband had a spot on his glasses with some numbers engraved that irritated the top of his ear. We thought this product would solve that problem and it did along with the slipping down his nose. They were instantly comfortable to wear. I decided to try them on my mother's glasses for the slipping problem and she was thrilled, too. No problems with catching on hair for either. A great idea that works!"
Get five pairs from Amazon for $6.99+ (available in three colors).
A pair of deodorizing pouches hungry for all your worst smells. Stuff the pair in your shoes, throw 'em in a gym bag, or hang them in the closet and let them gobble up any hint of odor.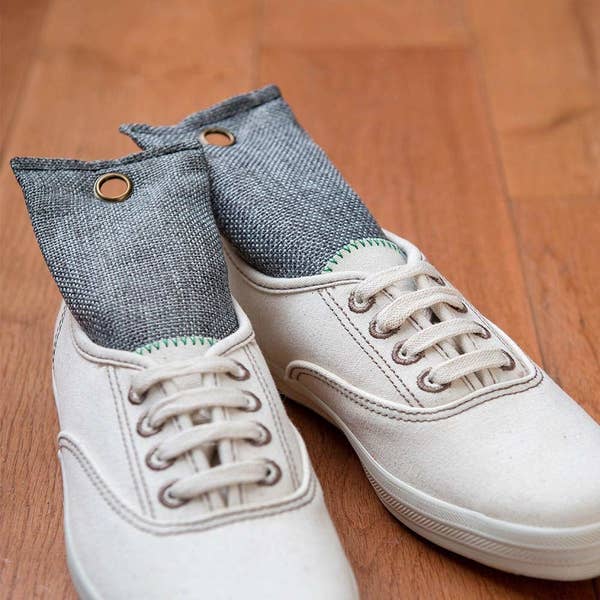 Promising review: "I have a pair of black leather flats that stank so badly my husband would yell at me if I took them off anywhere near him. But I love the shoes! So I had to find something to make the stench go away without leaving me with an allergic reaction. Mini Moso was the answer. I honestly couldn't believe it. A few days after placing them in my prized-off shoes, I took a whiff from about a foot away. Nothing. I got closer. Nothing. I stuck my nose practically in the shoe. Ok, maybe that's pushing things, but I've got to tell you that 95% of the broken-in leather grossness was gone. So happy!"
Get a pair from Amazon for $9.95.
A pack of Bottle Bright tablets you're sure to take a shine to once you see how shiny and bright they make all your oldest and grossest bottles look.

They're chlorine-free and environmentally safe! They work on stainless-steel bottles, plastic, glass, porcelain, and silicone. Just put a tablet in with warm water, let fizz for about half an hour, rinse, and admire your freshly clean container.
Promising review: "I wasn't sure if this was a gimmick or not. Turns out it works really well. I have four metal thermos-like containers that are used to keep the tea warm every day. Over time, the tea-stained the insides and was very difficult to remove. I added one of these tablets to the container, filled it with hot water, and let it sit for a few hours. When I came back to rinse it out, I was literally amazed at how clean it was. I think it looked cleaner than when it was new. I called my wife over to show her, and she was equally impressed. Awesome product!"
Get 12 tablets from Amazon for $8 (also available in a pack of 32).
Stain remover possibly created by the gods of white couches, because it can get rid of even the toughest of wine spills.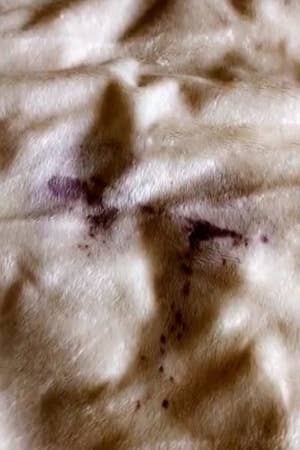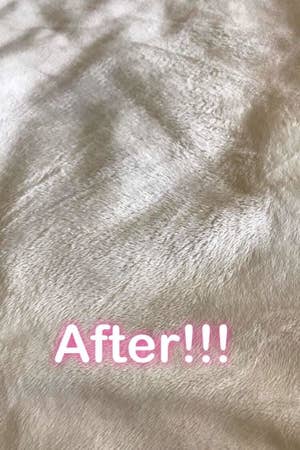 It's marketed for wine, but it also works with tough stains like coffee, blood, and ink. It's free of bleach or phosphates and smells like citrus.
Promising review: "Lo and behold! I completely cleaned the window sills, the window shades, the baseboards, the walls, and the carpeting! You cannot even tell it happened. No stains or color change to the carpet or the walls or the white painted surfaces. Before you try or use anything, buy this. It cannot be beaten! I was afraid I might have to hire a professional to clean the carpet and that I might have to completely repaint walls, but no."
Get it from Amazon for $7.94 (available in packs of 1-5).
A nail and cuticle oil to bring life back to your damaged nails, even if you did something really bad like — gasp! — peel off a gel manicure.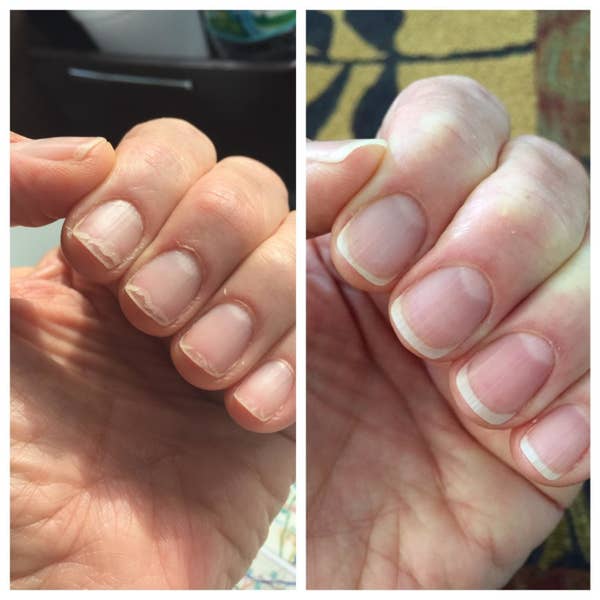 This oil has jojoba oil, sweet almond oil, and vitamin E to help promote strong nails and soften cuticles.
Promising review: "I had peeling, weak nails for years. Tried everything. I bought this in February. This size bottle lasted a bit more than a month religiously applying it two to three times a day. I was really seeing great improvement so I bought another bottle in late March. By May, all the peeling had grown out and my nails were getting stronger every day. I then bought the big 4-ounce refill bottle because I never want to run out of it again! Cannot recommend this stuff enough!"
Get it from Amazon for $8.50.
A pack of shower curtain clips, because the last thing you want to happen after watching Psycho is to have the curtain billow in and attack you.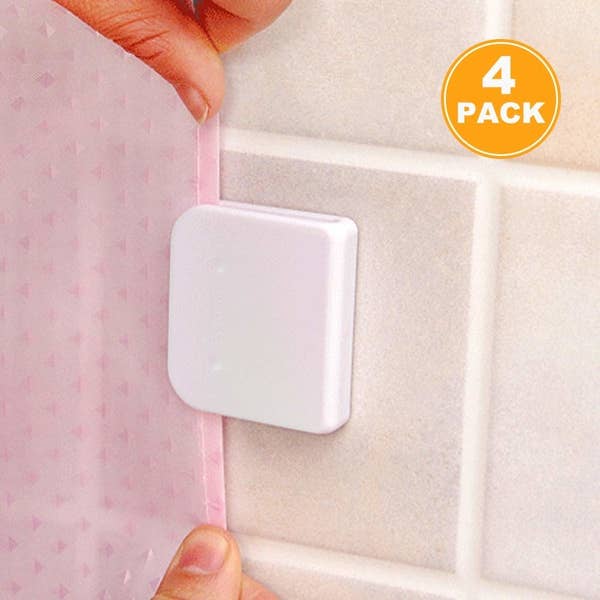 Promising review: "We live in a small apartment that is a converted attic space. As such we have slanted ceilings throughout different spaces. One such space was in the shower, where at the end there were 6 or so inches that the shower curtain did not reach. It was not a huge issue in the summer because it was hot, and I needed a little fresh air; however, as it started to cool down, I was losing precious steamy warm air out of this giant gap. I saw this product in a BuzzFeed article, and it was exactly what I was looking for! The adhesive is very strong but the curtain itself is easy to remove to open. I only used it once, and it was strong enough to keep the whole side of the wall blocked."
Get a four-pack from Amazon for $9.99.